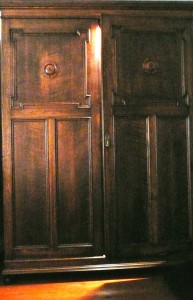 BEHIND THE WARDROBE is a phrase conveying a world of spiritual reality unseen by the masses but discovered by those with courage to explore it. This page of the website contains books and essays, chiefly by Michael Phillips, on bold thinking Christianity. As there will be no more writings from the pens of C.S. Lewis or George MacDonald, it is Michael's goal to further the spiritual vision of the two men by providing thought-provoking writings that challenge readers as they did toward mentally robust faith. The article "What is Behind the Wardrobe" explains this priority in detail.
BEHIND THE WARDROBE contains writings and features on "bold thinking Christianity," attempting to bring to daily faith the courage to search for spiritual truth and to probe God's purposes outside the box of doctrinal formula. 
The bold thinking Christian seeks to know God intimately by the truth of his revelation as well as by common sense. He or she does not live by pat answers or proof-texts but by practical reality that engages heart and brain in a harmony of obedience to the instructions of Jesus.  The desire of the bold thinking Christian is not to devise an intellectual framework by which to analyze God and man, but to prayerfully probe the Scriptures and the mind of God himself in order that his nature, character, and eternal purposes are more clearly illuminated.  Such a bold thinking disciple will thus be enabled to understand, obey, and fall in with God's purpose in a more dynamic and practical way.
Bold thinking Christianity is founded in daily obedient discipleship where the ideas of faith are scrutinized to aid and enhance that obedience.  What are the deeper truths that spiritual formula doesn't reach? How much more truth can be illuminated from Scripture? How much more intimately can God be known? How can the Bible's truth be expanded to fill yet more of life? How can moment-by-moment obedience to the gospel life of Christlikeness be deepened by a wide awake mentality of common sense faith? How much more alive is God than anyone knows!
"Bold thinking" discipleship is not merely optional, it is vitally imperative if Christians are to engage the world in a way that makes people hungry for what they have to offer – a muscular gospel.  Without it, we have little to offer but one more set of religious formulas.  That will always appeal to certain types of people.  But it will never conquer the world for Christ.  Only bold thinking Christianity has the potential and power to do that.
For contents of "Behind the Wardrobe," see TABLE OF CONTENTS and click on diamonds and crosses to see complete listings and sub-listings.